We currently are accepting new applications.
We've reached only 20% of our fundraising goal of $150k. At the present time the Community Chest has limited funds, therefore, assistance to approved applicants must also be limited. Ongoing fund raising will continue in an effort to provide additional support for those impacted by the pandemic.
HELP THE CORAL SPRINGS COMMUNITY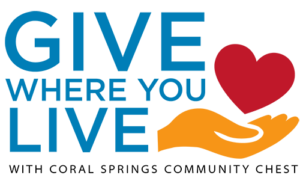 To help click the 'Donate' button below.
The City of Coral Springs is committed to providing resources for residents and small business owners who are financially impacted by the COVID-19 pandemic. We are partnering with the Coral Springs Community Chest, a local charitable agency, to raise funds to provide temporary financial assistance through the "Give Where You Live" program.