We have reached our funding capacity to assist those in need. Please visit coralsprings.org/rentals for additional rental & utility assistance through the City of Coral Springs. 
HELP THE CORAL SPRINGS COMMUNITY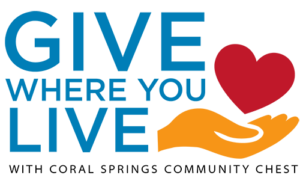 To help click the 'Donate' button below.
The City of Coral Springs is committed to providing resources for residents and small business owners who are financially impacted by the COVID-19 pandemic. We are partnering with the Coral Springs Community Chest, a local charitable agency, to raise funds to provide temporary financial assistance through the "Give Where You Live" program.